PLUNDER THE ARCHIVES
This site is also on dat.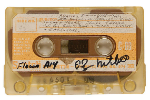 MOVING ALONG LET'S SEE MY FAVORITE PLACES I NO LONGER LINK TO ANYTHING THATS VERY FAMOUS
indieweb: .xyz, h0p3, enslen, tim holman, c.rwr.
true hackers: ccc.de, fffff.at, voja antonić, cnlohr, esoteric.codes.
esp8266: scargill, shin-ajaran, hekkers, jscottb, limpkin, 41j
zeptobars in the chips right now.
openfl makes programs. also see: moai.
dwm, julia, tridactyl these are things you'll want on linux.
neil c very famous but should be a world icon.
the world or cate le bon you pick.
sammyclassicsonicfan the original teen rage adventure.
innovation.isotropic.org probly the best carl chudyk game.
and opinionated gamers for non-chudyk game analysis.
my twitter. my github. minor things.

BUT WHAT IF YOU WANT TO LEARN MORE ABOUT ME?
Ok I can see that you have spent too much time studying me for now. Rest up for the morrow. Use the feed if you need.