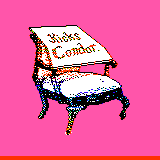 I asked you for links! And maybe five people said, Hey, sure. (Who doesn't want a link to them??)
I also hit up Hacker News. And that went better. I don't really see any of these links as being outside of my filter bubble—might need to crawl Neocities next!
But hey. It's great! I wanted to play with a directory format for these links. And here is my result. I'm starting with a simple three-column format, cribbed from the reviews in the back of Zine World.
Thankyou for letting me link to you!
Home Pages
It's Krish A nice, colorful little home page with some longish essays on culture, the Internet and the future. I was wondering if this sort of encapsulated personal home page existed—and it does! I personally REALLY like that Krish has organized the articles on the site into a little directory. Often a blog is simply the most recent things and that may not be a good starting point for discovering someone. #creativity #personal
Blogs
Podcasts
Car Bomb Podcast A cast of ten or twelve people rotate in to discuss pop culture and gaming, beer and basically anything that they think is worth mocking or praising. The episode on "The Odds" stirred nostalgia—I used to play that all the time. #beer #culture