I often have the students concoct their own story problems. I highlight the most insane.
I often have the students concoct their own story problems. Lately, I've been using a tablet-based drawing tool along with some stickers from Byte. (I would love to use Byte—but it doesn't live up to COPPA.)
One kid came up with the pictured story problem. Pardon the grammar—we didn't proofread these.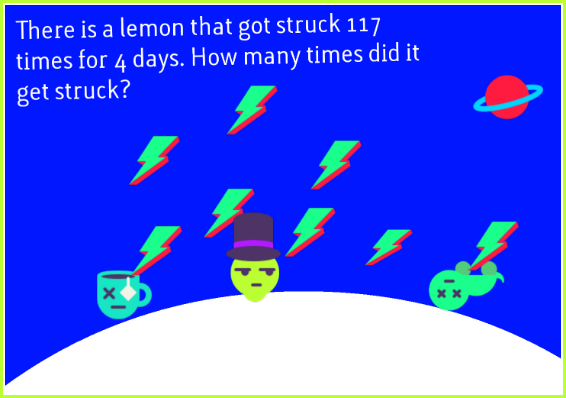 To clear this up: the lemon is struck by lightning 117 times each day! This lemon also appears to be alive, unlike the unfortunate turtle and teacup that found themselves stuck on the same hillside.
He is also probably actually a lime. How would that be—to have your key identity discarded during this defining moment? Maybe this is that elusive lemon-lime that the soft drinks always talk about.
Clearly we are dealing with a tough fellow here—an affluent, though morose, lemon-maybe-lime. We all hurriedly dashed out the answer so that we could know exactly how many strikings this poor citrus had endured! It was a tough four days.
---
Now for this one.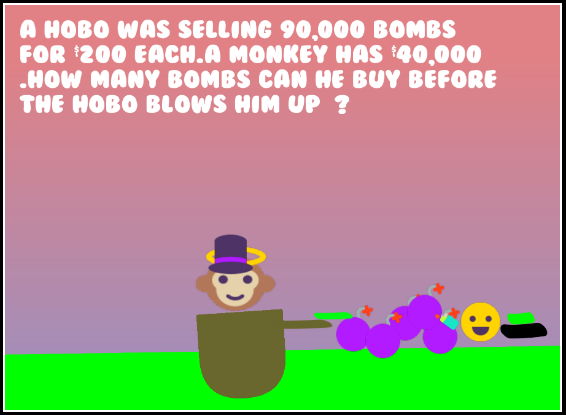 I asked the student, "Will the hobo still blow the monkey up after he spends his $40,000?"
He said, "He's going to blow him up no matter what."
Wealthy monkeys, don't do business with hoboes! Especially hoboes trafficking 18 mil in explosives! That seems suspicious to me.
---
The last story problem I want to mention never actually materialized, but this next one is a math-in-feelings problem.
It went like this:
(Student who has been at the counselor's office arrives late for the activity.)
Me: "Ok, (Student). We're coming up with story problems."
Student: "Oh, I know what mine is!"
Me: "Let's hear it."
Student: "Ok. There are two guys. And they're neighbors."
Me: "Sounds good."
Student: "And they hate each other in a hundred different ways."
Me: "Oh, wow."
Student: "But they love each other in a hundred different ways."
Me: "So they cancel each other out."
Student: "No, so you take all of their feelings—how many feelings all together do they have for each other?"
One of the kids next to us goes, "Four hundred feelings!" jubilantly.
This post accepts webmentions. Do you have the URL to your post?
You may also leave an anonymous comment. All comments are moderated.