08 Sep 2018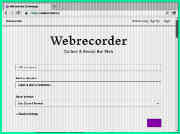 An incredibly sick tool for archiving—maybe this is already popular and beloved, but it doesn't hurt to wave it around a bit here.
A modern WWW archiver service—just was overhauled and the bleeding-edge can save the archive to Dat. (Makes me want a 'record' ⏺ button in my URL bar that I can just leave on! Any ideas if this exists??)
(INCIDENTALLY discovered this on the Code for Society Agenda notes on Etherpad, which I hadn't seen in many years—it's fantastic that it's still around! This is a tool surely in the vein of what our little internet surf club here has been discussing recently. (Video here, haven't watched this, so this is also a TODO.)
This post accepts webmentions. Do you have the URL to your post?
You may also leave an anonymous comment. All comments are moderated.