03 Feb 2020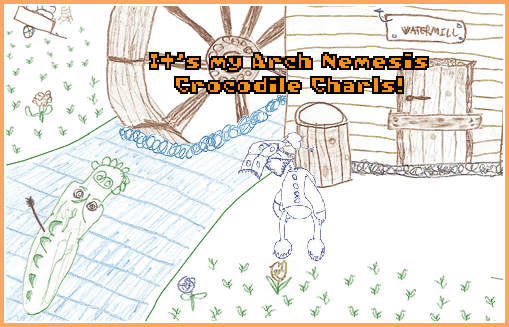 From shitty website 'Best of Bjørnar B.'
This website of scribbled art purports to have sprung from the mind of a teenage Norwegian, however I'm not buying it. It appears that this site was covered somewhat closely by Something Awful years ago - and was perhaps originally hosted there. The site mostly contains drawings and games featuring a character called D. Duck who has to deal with an unruly Uncle Jubalon and fears losing his girlfriend Dasy to his cousin Anton. (YouTube vids here, if you're rightfully wary of downloading.)
I have not dug deeply here - the game mostly seemed to be fat jokes and funny mispellings - but I think the game is a bit more impressive work than the reviews say - and there are only like three one-star reviews out there. The animation and visual style is quite unique - there's no doubt that some decent work was poured into this. I love hand-drawn games - this Homeward Bound game and this Hanging Gardens game come to mind as other scribbly designs that look unlike anything else. But D. Duck is so scribbly that you almost can't make out the characters' appearances - their bent heads and distorted bodies are almost Cubist. The soundtrack also seems too good for a teenager. Who knows tho!
In an age where so much design has become bland and smooth, or simply striving toward realism, I think we could use a lot more mess and distortion. I feel like Charlie McAlister would have made a game like this.
This post accepts webmentions. Do you have the URL to your post?
You may also leave an anonymous comment. All comments are moderated.