This reminds me of these "useless web" sites—this being the primary one—that have managed to stay very popular. (A lot of YouTubers make videos of themselves clicking through this site and I often see kids at school using the site.) And it's basically a webring. But it's not a code-based one, it's the opposite—it's totally curated.
(Oh, also, the fellow who does this also works on a directory of "inspiring" projects that looks great. So, this is a person who is having some success playing with curated discovery projects.)
I think computers have completely blown it with discovery. The smartest minds have all been working on this for decades now and it has been a disaster. The question to me now is just: how do we equip our librarians? And I tend to think that we don't need anything more—our technology is totally under-utilized.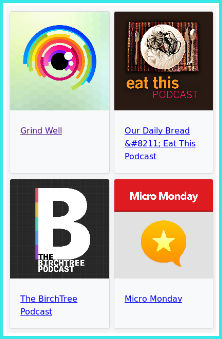 However, there is one promising development that I see from the Microcast.club directory: the self-designed cards that show big images on each entry. The directory is using the itunes:image entry in the podcast RSS feed. This is fantastic because the curator can select/filter the directory entries—but the authors can customize their cards.
I wish RSS stylesheets would have caught on so I could offer this kind of thing for the Indieweb.xyz blog directory.