09 Feb 2019
I actually kind of understand this—only because I think Mastodon is at odds with the Indieweb.
After only eight posts syndicated to Mastodon, Joe Jenett—who I really respect as a linklogger—he's one of my main links on the right-hand side of my home page—has been removed from their public timelines. I'm not trying to stir up controversy and say that this is the wrong call—posts syndicated to messaging platforms can look like noise to them—but I think it's good to talk about what's up here.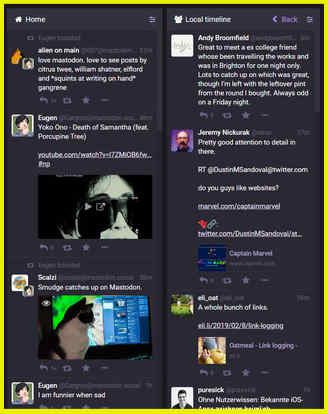 The problem (from the Indieweb point of view) is that the Mastodon public timeline (toot.cafe pictured at left) is a place to participate in the overall conversation—that instance's inside jokes and tags. So it has a somewhat narrow view of what's 'relevant'—it expects some degree of participation.
However, I see that Eli Mellen is also active on Mastodon and does some syndicating there—although I don't think it's automatic. It looks like he does it by hand.
Which is something I've noticed as I've been syndicating to Twitter. Some posts just get mangled in the conversion and look more like noise than actual participation. I start to feel like I'm syndicating to a random forum where I'm still a foreigner. It feels like senseless self-promotion, rather than when I syndicate to IndieNews because I have something that fits the topic.
(As an aside, it might be interesting to start a Mastodon instance that basically acts like micro.blog. It's for syndication, but also feels like a community where you go to find other blogs. Huh—this could work.)
It's possible that Joe just found the wrong instance for his stuff—perhaps someone out there can give him some advice on that. I tend to think, though, that this does somewhat show that Mastodon is still a type of walled garden. It wants its own original 'content' so that it can be the center of the conversation.
This situation feels a bit gross, though, because you wish that the friction wasn't there. That Mastodon could be another asset for hypertexters. Seems like another case of Wars of Conflicting Webs. Or maybe it is an asset—and it just has a narrow aim. It's difficult because sometimes it feels like it's positioned itself as more of a protocol than a Twitter replacement. I dunno—what's the take here?
@kicks It might matter in how big the Mastodon instance is. In example a tiny Mastodon instance that only gets 100 toots per day, just a couple of cross posts might stand out. Whereas on a bigger site with a timeline that flies past they are nothing.

While I like the idea of themed instances (writers, poets, etc.) where people all share a common interest, a general Mastodon seems like just a Twitter clone.

Replied to

Joe's Syndicated Links Considered 'Spam' By Some Mastodon Instance

by

(

kickscondor.com

)

I actually kind of understand this—only because I think Mastodon is at odds with the Indieweb.

I don't think that what

is seeing is an anti-IndieWeb thing. It is something we've seen before from a handful of instances and will assuredly see again.

The other example of this behavior I've seen was when Greg McVerry, a college professor and member of the IndieWeb community, tried to join a Mastodon instance that was specific to researchers and professors in higher education. Sadly he found out, like Joe, that syndicating content from other locations was not acceptable there. As I recall, they also required an automatic content warning on almost everything posted to that particular instance which seemed an additional travesty to me. I think he ultimately joined mastodon.social and found he didn't have any similar issues there and anyone who wanted to follow him from any other instances still could. I'm sure he can provide some additional details and may have posted about it sometime in the summer of 2018 when it happened.

The tough part is that each instance, though federated among many others, can have its own terms of service and set up. Some instances can be and certainly are run by their own tyrannical administrators, and I suppose that it's their right since they're paying for the server and the overhead. The solution is to do some research into some instances and find one that isn't going to ban you for what would otherwise seem like average use to most. I've found mastodon.social to be relatively simple in its terms and its massive size also tends to cover up a lot of edge cases, so you're unlikely to run into the same problems there. (It is also run by the creator of Mastodon, who has generally been IndieWeb friendly.)

The issue Joe has run into also points out a flaw of the overall Fediverse in that just like each real-world country can have its own laws and there is a broader general international law, the international laws aren't as well codified or respected by each individual country. When you're operating in someone else's country, you're bound to follow their local laws and even customs. Fortunately if you don't like them there are lots of other places to live. And this is one of the bigger, mostly unseen, benefits of the IndieWeb: if you have your own website, you can create your own rules/laws and do as you please without necessarily relying as heavily on the rules of others.

I'll note that some in the IndieWeb (Aaron Parecki, Ryan Barrett, Mathias Pfefferle, Jacky Alcine, et al.) have been playing around with or thinking about adding the ActivityPub protocols so that their own websites act as stand-alone members of the Fediverse. Since I know Joe has recently moved to WordPress, I'll mention that there are two separate projects to help WordPress sites federate:
* ActivityPub plugin for WordPress from Mathias Pfefferle
* Bridgy Fed from Ryan Barrett

Naturally neither of these (yet) supports all of the protocols so some functionality one would find on Mastodon won't necessarily work, but I suspect that over time that they eventually will. It's been a while since I tried out BridgyFed, but I've had the ActivityPub plugin set up for a bit and have noticed a lot of recent work by Mathias Pfefferle to use it for himself. I still have to tweak around with some of my settings, but so far it provides some relatively useful results. The best part is that I don't need to syndicate content to Mastodon, but users there can subscribe to me at @chrisaldrich@boffosocko.com, for example, instead of @chrisaldrich@mastodon.social. The results and functionality aren't perfect yet, but with some work we'll get there I think.

Good luck finding (or creating) an instance that works for you!
This post accepts webmentions. Do you have the URL to your post?
You may also leave an anonymous comment. All comments are moderated.