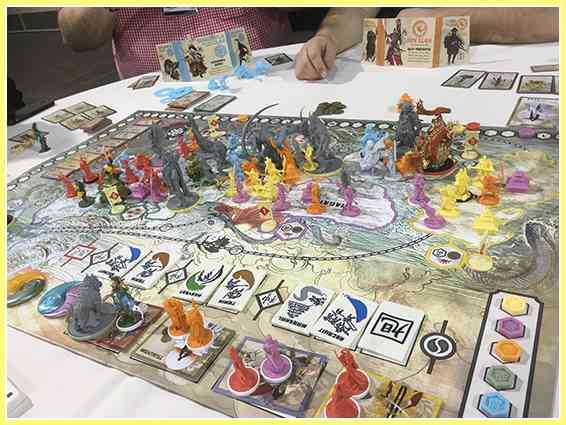 Fables of Tables #1
In my first game of Rising Sun, a Kaiju came in from the sea—and what happened next brought a profound mix of delight and sadness.
This is the first in my Fables of Tables series. It's a type of review series. But instead of dryly reviewing the game's mechanics and stamping some harsh grade on its face, I'm just going to tell a story.
Today's game is Rising Sun. This is a miniatures game—full of plastic monsters. I don't really play miniatures games, but a friend had a copy so it just happened. And, what the blazes? A miniatures game in pastels?
Midway through the game, I noticed that you could buy a giant Godzilla-like monster to have in your crew.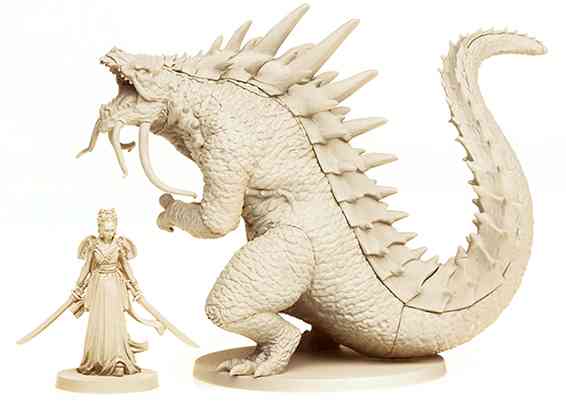 "What's the Godzilla do?" I asked.
And the friend who owns the game—I'll call him Hustle—says, "Oh, he has five force." So he's huge—his power is equal to five whole army guys.
He goes on to explain that when you buy the Kaiju, you put him out in the sea—the whole board is a rough map of Japan and there is water surrounding the islands—so you put the monster out there, and then during battle you can spring him on to any of the game's provinces and he'll destroy all the buildings there. (The buildings are these strongholds where your units can appear.)
"Oh man!" I'm thinking. "Just like Godzilla! I love it! I gotta have it!"
I just really enjoy monster movies—particularly Shin Godzilla—that wail that sounds like metal sheets tearing and that slow, sinuous tail as he moves methodically through the cityscape. I get that he's historically out of place in this game, but I don't care! He is the force of the Earth fighting back against civilization—what if he could have done this in some bygone age?
The guy playing purple (don't recall his name) buys the Kaiju before I can. This player is already in the lead and now has Godzilla, placing him in the sea. It is as if two titans of this world have allied and we are waiting for our defeat.
I look on wistfully at this being. Five force! I am in awe and I sit in anticipation of what the lurking god will do when war begins.
---
War arrives and the fellow playing purple brings Godzilla on to land in the northern province of Hokkaido. The Kaiju storms into the scene and—well, there are no buildings there—he has no effect. But still—this is an island teaming with monsters and warriors and look how Godzilla towers above them!!
Hustle reaches across the giant board and points. "Ok, so, you see, I have the Earth Dragon here."
Hot snakes, I had forgotten about the Earth Dragon! So the Earth Dragon does not have the force that Godzilla has. However, the Earth Dragon is able to push away one unit from each opponent in the battle. It is as if the Earth Dragon takes a big breath and then >SNUFF< a bunch of guys fly off to other parts of the island.
Of course, he chooses to snuff off Godzilla. The Earth Dragon takes a big breath and a myriad of warriors and creatures scatter across the map. Godzilla is propelled all the way across the board—using a marked sea lane, I should add, since the winds of the dragons respect these rules as well—and he lands in Kyushu, destroying a few buildings when he lands.
War rages on and, before long, the spotlight shines on Kyushu. Godzilla has picked up the pieces and, with some tarnished pride, admirably overshadows the vast assembly of demons and gods there.
"Hang on," says the player to my right, "my Fire Dragon goes first."
Holy cats! Right! The Fire Dragon! This twisty, devious dragon coughs his terrible fireballs just as the battle forms—incinerating one unit for each opponent present in the conflict. Warriors and barbaric creatures fall away in the fire—and Godzilla himself, no, it can't be! Can it??
Gods, it is true! The vast unshakable behemoth is now wildly dashing from the island in a pyre of his own burning scales. He tumbles down the beach, a maniacally flailing lizard, a lizard of flame and agony, howling his metal-rending chord.
The great Kaiju sinks back into the ocean—in shame and sorrow—having made no effect on the actual game at all. Like we never did any math with Godzilla involved. Literally no effect.
---
I sat there for some time after the game had concluded. Stunned and humbled. I contemplated the fate of Godzilla. Perhaps even the great gods get tossed and squashed and embarassed on a bad day.
Perhaps when I die, my Guardian—or my Saint or Kami—will approach me to greet me into a new kingdom. And she, too, may trip and fall into fire, to be engulfed and never seen again. These things happen. I realize that now.