A gateway to the Old Web and its sparkling, angelic imagery.
I try not to get too wrapped up in mere nostalgia here—I'm more interested in where the Web is going next than where it's been. But, hell, then I fumble into a site like this one and I just get sucked up into the halcyon GIFs.
This site simply explores the full Geocities torrent, reviewing and screenshotting and digging up history. The archive gets tackled by the writers in thematic bites, such as sites that were last updated right after 9/11, tracking down construction cones, or denizens of the 'Pentagon' neighborhood.
Their restoration of the Papercat is really cool. Click on it. Yeah, check that out. Now here's something. Get your pics scanned and I'll mail you back? Oh, krikey, Dave (HBboy). What a time to be alive.
But, beyond that, there is a network of other blogs and sites connected to this one: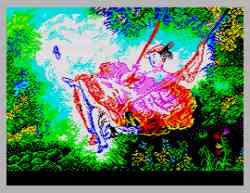 I was also happy to discover that the majority (all?) of the posts are done by Olia Lialina, who is one of the original net.artists—I admire her other work greatly! Ok, cool.